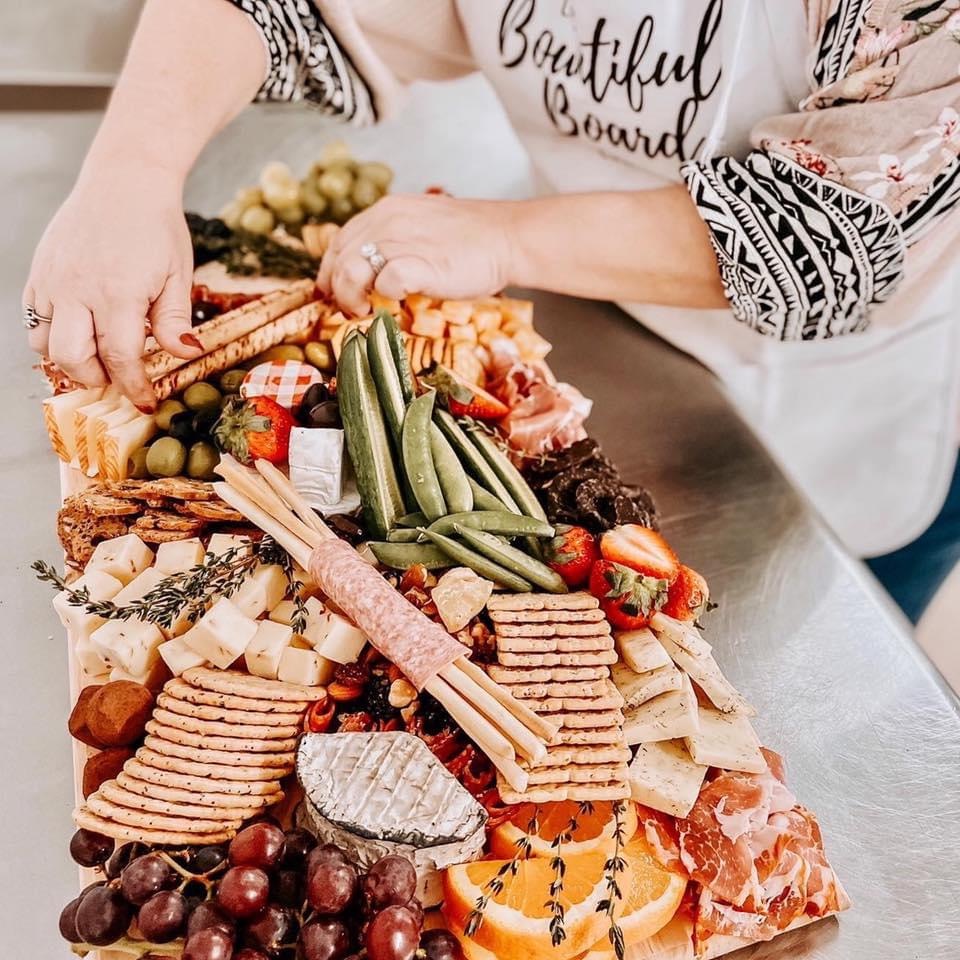 Welcome To the Bountiful Board!
What is The Bountiful Board? In a nutshell, I make customizable and unique charcuterie boards. A blend of meats, cheeses, crackers, fruits, nuts, veggies, olives, pickles, chocolates, desserts, candies, etc. served on a board for you and your guests to enjoy. I would love to make your next event the talk of the town. Whether it's a holiday party, birthday party, bachelorette party, wedding/baby shower, wedding, girls night out, a luncheon, kids birthday, euchre/bunco night and so on... I've got you covered.

Contact us at Christy@TheBountifulBoard.com or call us at 317-753-3703 if you have any questions.

We look forward to helping add that special something to your next event!
Board Appetit!
Christy Johnson
Founder & CEO
Follow us on social media:
Available Board and Cup Options
Here are the available board options that you can select in the ordering form. All boards are customizable with any configuration of snacks and hors d'oeuvres. We also offer themed packages for just about every event. Christmas, Thanksgiving, Baby Showers, Football Parties, High School Graduation Parties are just a few example of the options available. Take a look at the different sizes and see what one might work for you with your next party!
With all the craziness of Covid, we wanted to create a fun party option that still showcases some incredible food combinations while simplifying the serving. Introducing our Charcuterie Cups! Available in 4 distinct styles that can be combined in a number of ways to offer variety and value. Please remember to specify the number of cups when ordering and what combination you prefer.
Veggies and Ranch Cups
Celery, Cucumbers, Red Pepper, Carrots, Sugar Snap Peas, Cherry, Tomato, Olives, Ranch Dressing, and Garnish

Starting at $5/ cup - minimum order of 12 cups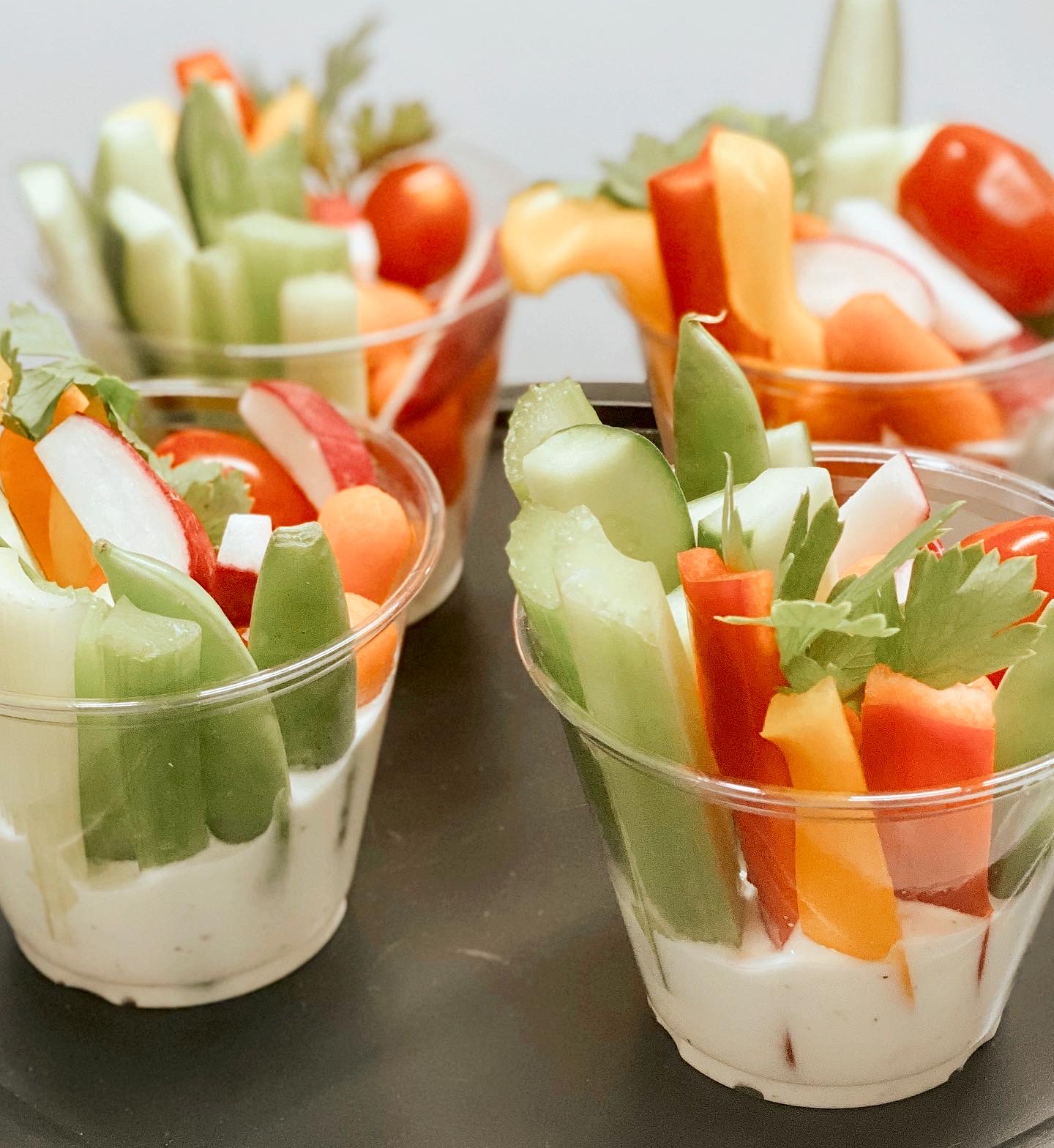 Cheeseball Cups
Individually wrapped 1 1/2 inch round ranch cheese balls, Pretzel sticks and twists, Crackers, Chocolate

Starting at $5/ cup - minimum order of 12 cups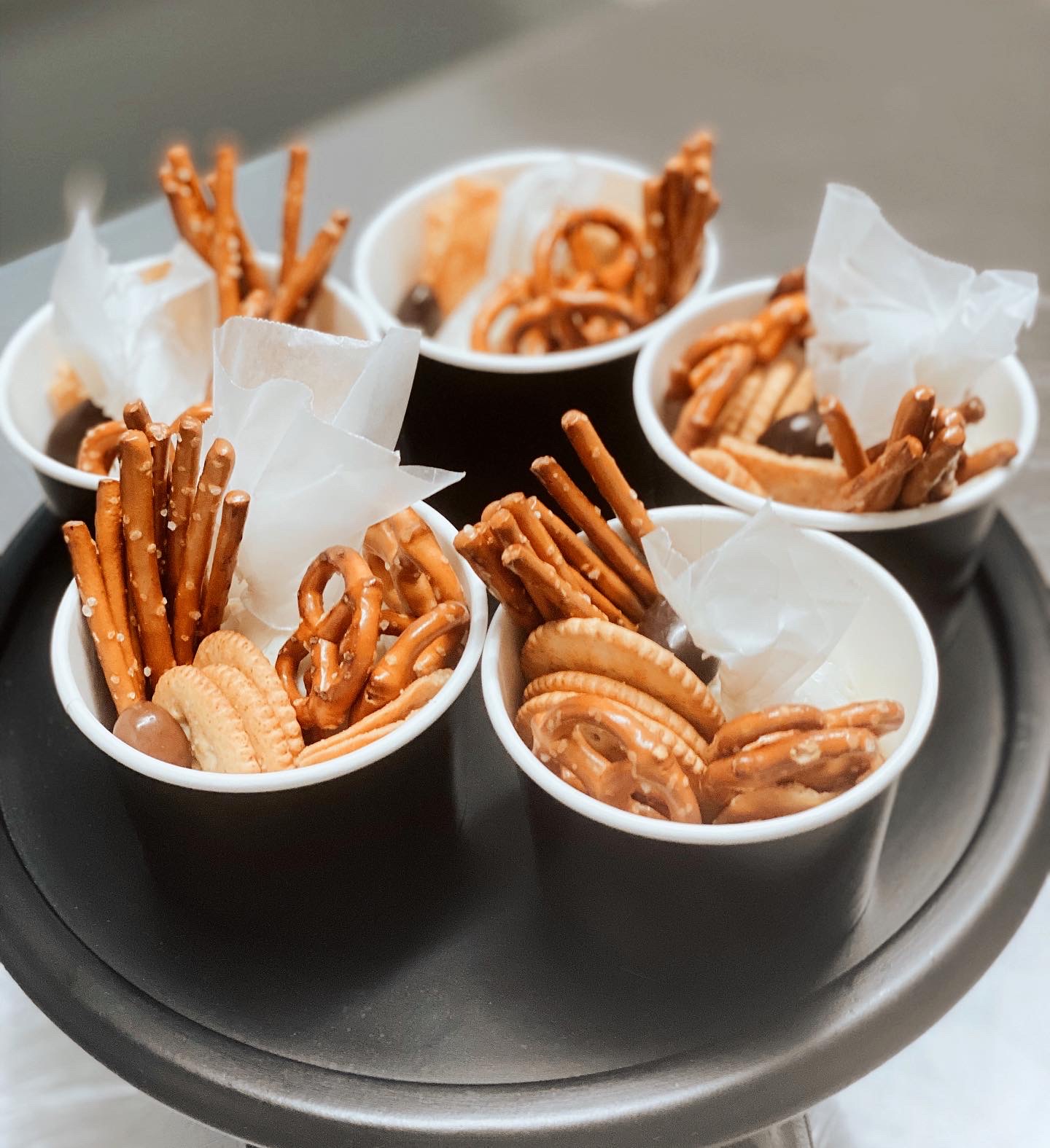 Fruit and Cheese Cups
Green grapes, Purple grapes, Pineapple, Blackberries, Strawberries, Blueberries, 3 kinds of cheese, Orange slice, Garnish

Starting at $6/ cup - minimum order of 12 cups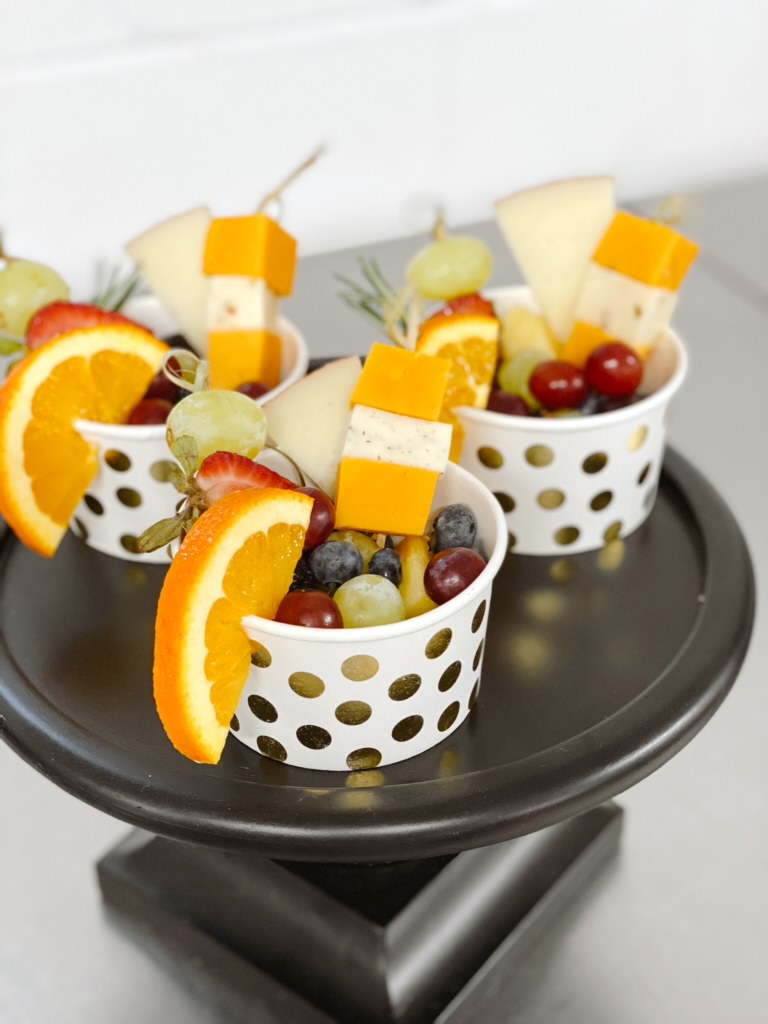 Charcuterie Cups
Breadstick, Pita Crackers, Fruit Kabob, Tomato, Pickle, Olive Kabob, Chocolate, Dried Apricot, Blueberries, Garnish, 2 types of cheese, 2 types of meat

Starting at $6/ cup - minimum order of 12 cups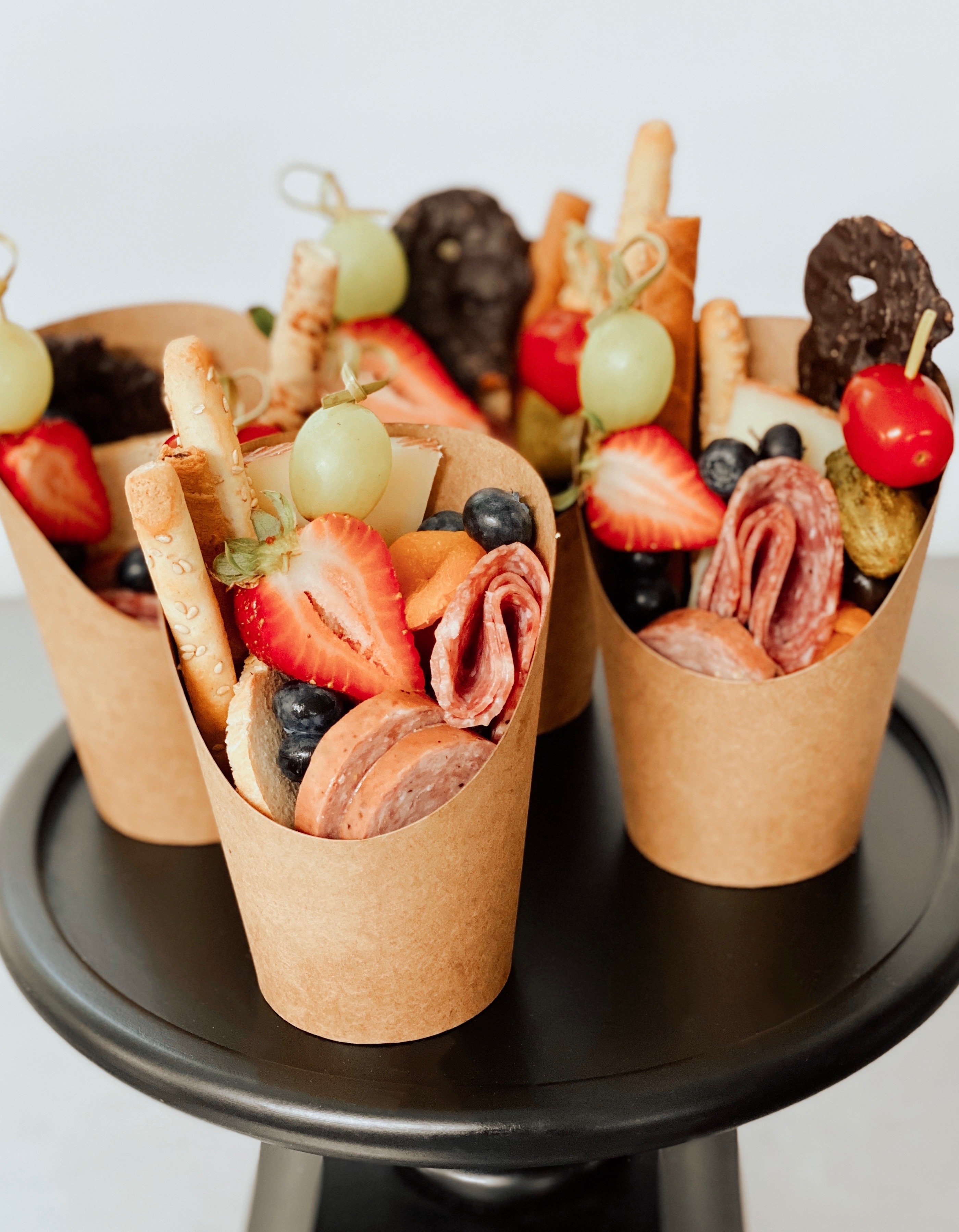 Two Foot Keto Board
Introducing the Keto Board! This board is full of veggies, meats, cheeses, nuts, approved chocolate, pickles, olives, pickled okra, parmesan crisps, light fruit, ranch dip, and of course a ranch & bacon cheeseball!

Add on a box of crackers for your non-keto guests and you are set!!
Note: Keto conversions are available with other sizes for an extended price.
Starting at $125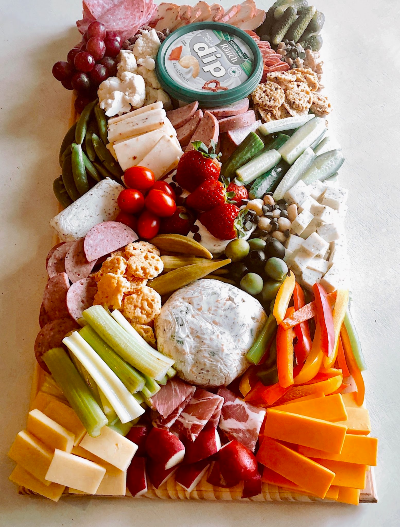 Two Foot Board
Filled from edge to edge with meats, cheeses, crackers, a cheese-ball, fruits, cookies, and chocolates, the two foot board is a great addition for a small gathering like a book club or social club. This board generally feeds about 5-7 people snacking on it.

Starting at $90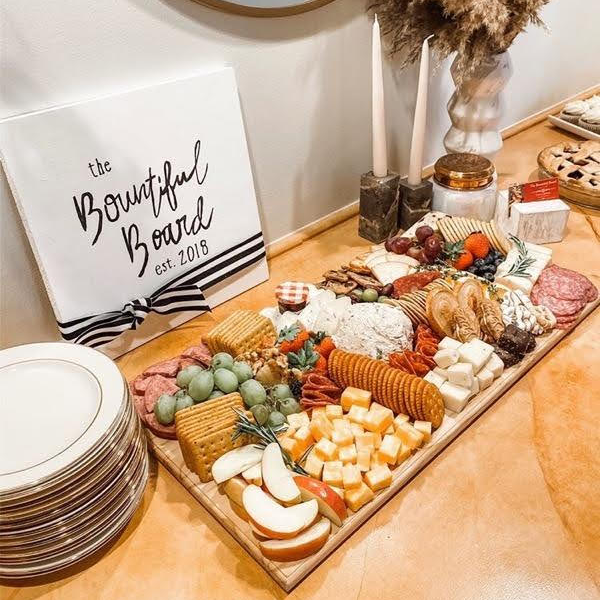 Three Foot Board
With 50% more food, the Three Foot Board has a larger assortment and variety of meats, cheeses, crackers, a cheese-ball, fruits, olives, pickles, cookies, and chocolates. Some veggies can be substituted to round out this people-pleaser. This board generally feeds about 7-10 people snacking on it.

Starting at $130
Four Foot Board
The Four Foot Board is a feast to behold that includes veggies and other snacks that the other two boards can't contain. Hummus, nuts, and a variety of sweets can be easily customized for your special event. This board generally feeds about 10-15 people snacking on it and is perfect for the larger party or social gathering.

Starting at $170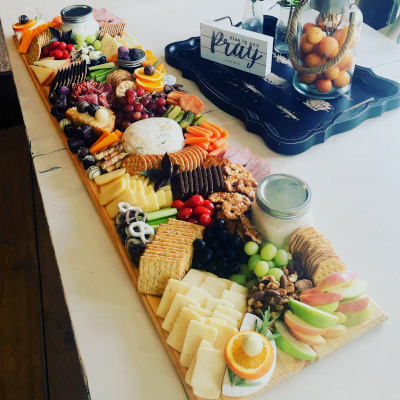 Six Foot Board
If you're planning on more of a meal, this six foot board takes it to the next level. This arrangement adds a fresh baked loaf of baguette style french bread. This board generally feeds about 15-20 people snacking on it and is perfect for the larger party or social gathering.

Starting at $260
*Note, this will be made from two 3 foot boards for ease of handling and storage.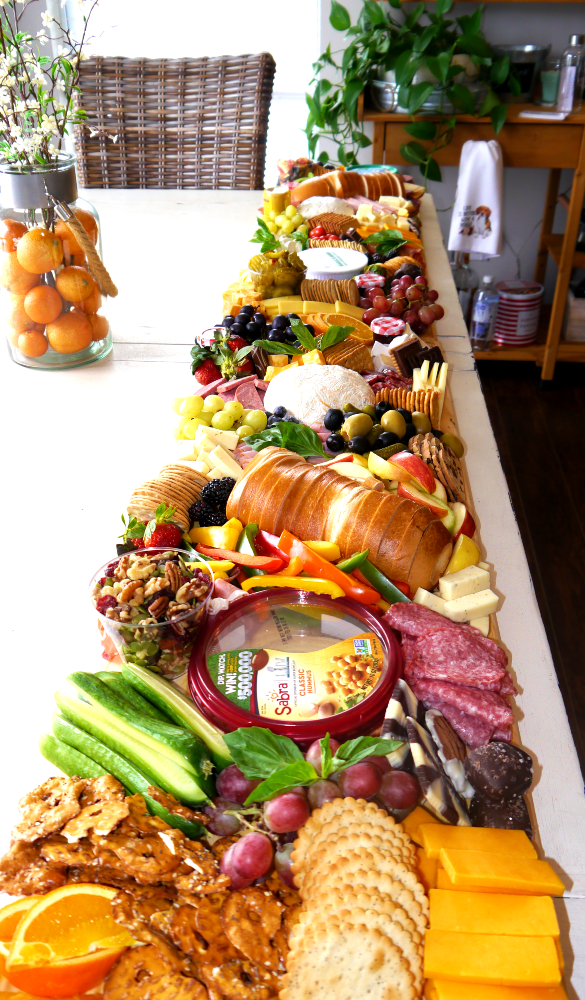 The Bountiful Party Board!
All other boards bow to the Bountiful Party Board! This board is 6 feet long, but 18 inches wide instead of the normal 12 inches. This means it has the same area as what would be a 9 foot board! This board features distributed assortments and is piled high with great food. This board generally feeds about 25-30 people snacking on it and is sure to impress.

Starting at $375
*Note, this will be made from two 3 foot / 18 inch boards for ease of handling and storage.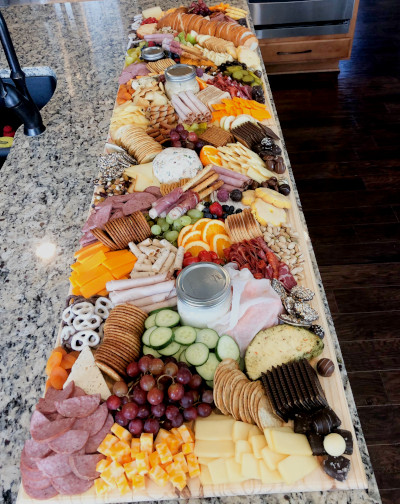 The Bountiful Gallery
Below you can find some examples of what other people have ordered or customized. From festive themed occasions to our dessert or candy boards. We can also make health conscious boards for those with special requirements. Just let us know at the bottom of our order form what you would like... or maybe one of each!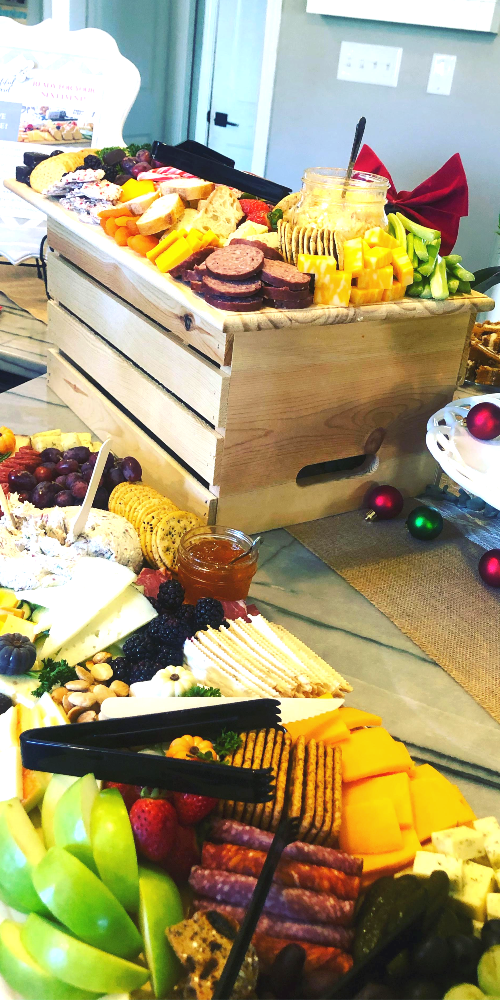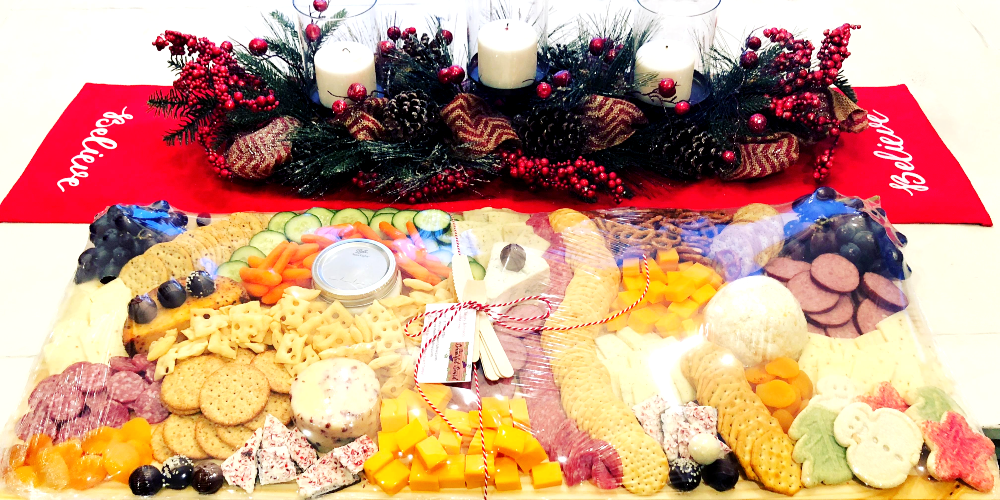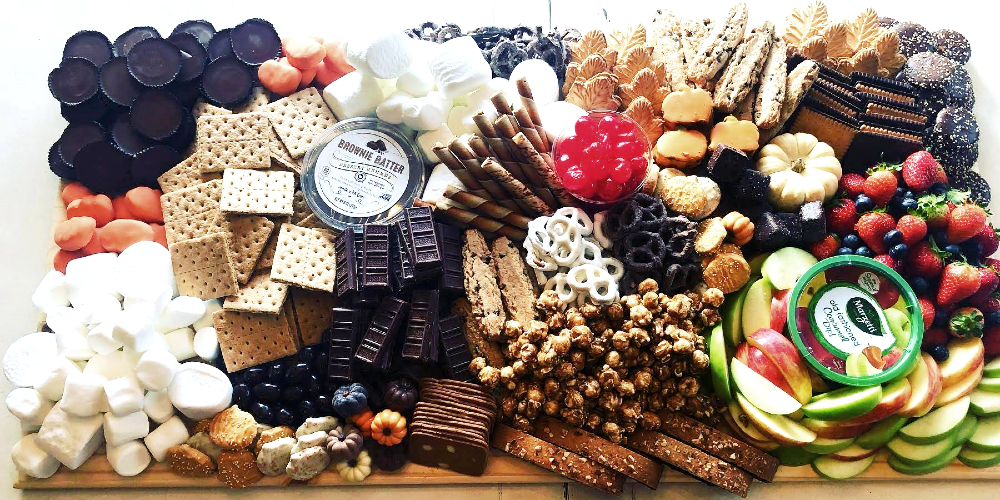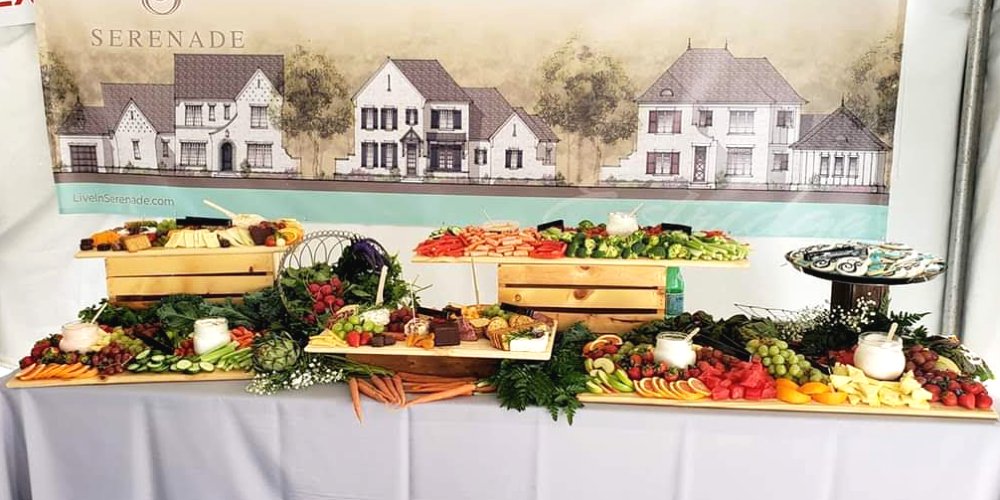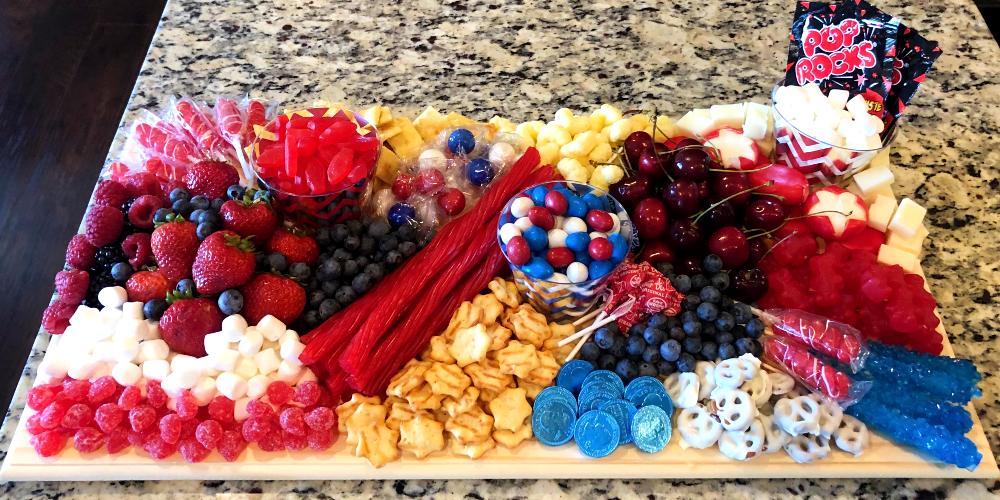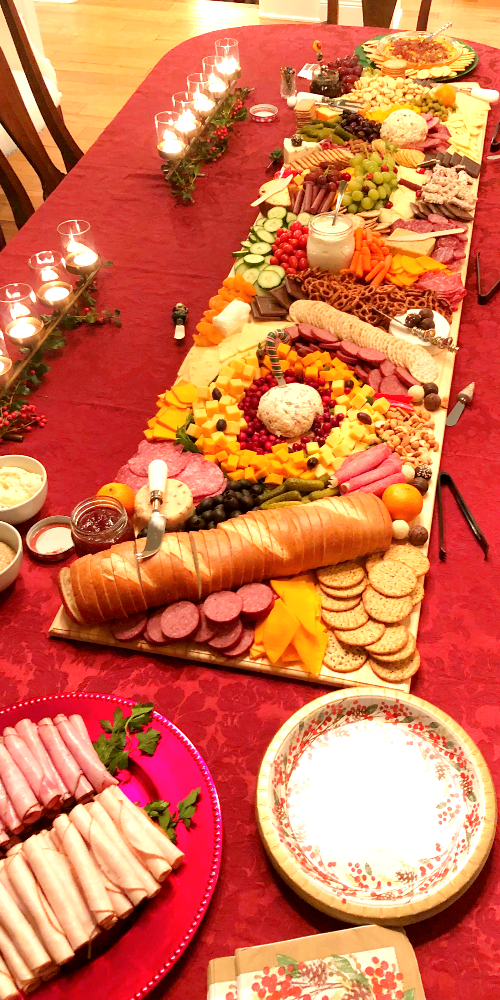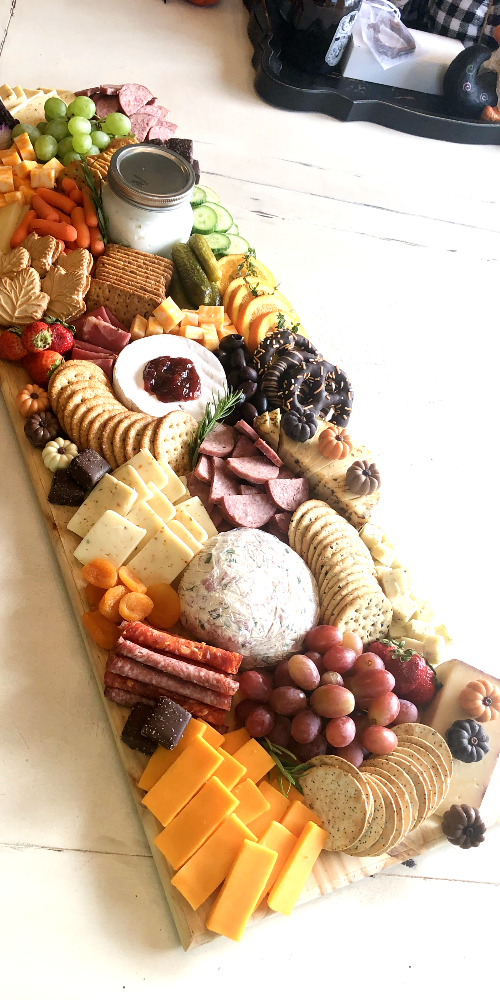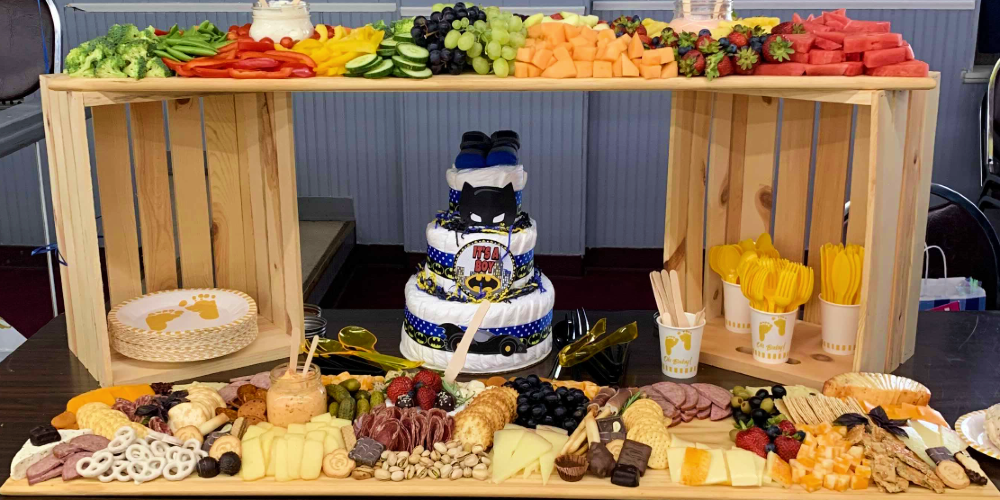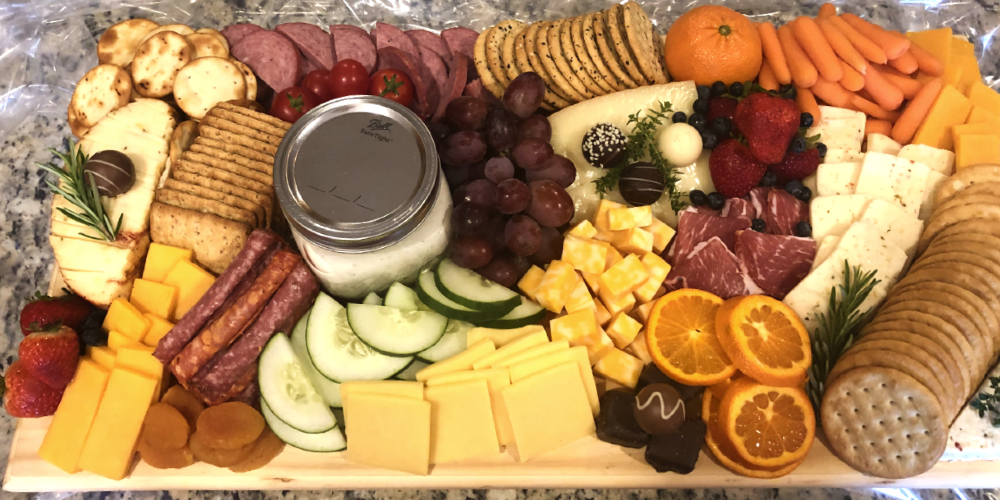 Our Customers
We think our boards are pretty great, but don't just take our word for it! Here's what a few of our customers have to say about them.
Christy did an amazing job for our son's high school graduation open house. We ordered 2 six foot boards and they were impressive! Beautifully arranged with fruits, vegetables, cheese-ball, cheese, meats, crackers, jellies, chocolates, breads and condiments, the boards created a visual "WOW" for our party. You name it, we had it on our board! We meet with Christy a few weeks before our open house to talk through our vision for the boards and Christy brought them to life. She delivered the boards to our house the morning of the open house, set them up, and all we had to do was enjoy time with our family and friends. We received many compliments about the impressiveness of the boards. I cannot recommend Christy enough, especially if you are looking for something unique that can serve a lot of people and is a breeze to clean up. Our goal for the open house was something different and easy, and Christy delivered that hand down. Christy's professionalism, kindness, and thoughtfulness and just her personal energy made our son's graduation party very, very special. The Bountiful Board is the way to go for a gathering.
The Bountiful Board was a lifesaver for us! With only one week's notice, Christy created six beautiful boards for us for a preview party we were hosting in one of our new neighborhoods in Westfield. The boards were beautiful, all of the fruit and vegetables were so fresh and all of the cheese, crackers and dips were delicious. We highly recommend The Bountiful Board and look forward to working with them again on our next event!
The Bountiful Board blew us away! We ordered a board for a grand opening party and it was exactly what we needed. So gorgeous and delicious!! The perfect treat for a party, event, or family gathering! We already planned our next one!
Christy has done a few charcuterie boards for various corporate outings we have organized. She will meet you at a venue, and 100% take care of setting up a beautiful display of meats, cheeses, sweets, and more prior to your guests arriving. Not only is it convenient and a substantial amount of food for the price - Christy is a pleasure to work with. I highly recommend The Bountiful Board for your next corporate event.
Frequently Asked Questions
Do prices include delivery?
Prices are for pickup, extra delivery charge may apply
Do I need to pre-pay and how do I pay?
Every order will be sent a Square invoice via email with payment options to paid prior to pickup or delivery.
How is the number of people the board feeds calculated?
Estimate of food is for an average meal. If using as an appetizer only (with other food), a good estimate is to double the number.
How do you ensure that the food stays fresh?
All boards are shrink wrapped to maintain food freshness. If there is significant time between board preparation and pickup, the boards are refrigerated.
Can the boards be customized with certain foods or foods be left off?
Boards can be customized with special requests to include or exclude whatever foods you like. There may be an additional fee depending on total cost of food.
Can you make the boards for people with certain allergies?
Boards can be customized to exclude certain foods such as gluten-free, nitrate-free, and organic products for an additional fee. While every effort is made to accommodate such request, wood is a porous material and the boards are not made in a gluten free or similar environment and so care should be exercised with extreme allergies.
How full do you make the boards?
All boards come filled edge to edge with meats, cheeses, crackers, a ranch cheese-ball, fruits, olives, cookies, and chocolates. Larger boards also include veggies and dip, breads, and nuts.
What else comes with the boards?
Plastic tongs and bamboo knives come with the boards for serving utensils
Can the boards be delivered to my event?
Delivery can be accommodated but the price quoted on the website is for pickup only. Please include the address to where the board will be delivered and we can makes sure we can schedule your time for delivery and include that on the quote.
Help! My event is tomorrow, can I still order a board?
Last minute boards are certainly available, but will be subject to our availability and may incur a rush fee depending on the situation.
Do you charge a deposit for the boards and glassware?
A $40 deposit is collected by credit card at the time the order is placed which covers any lost or damaged boards or glassware.
How do I get my deposit back?
Please return all boards and glassware within 4 days to: 18176 Starview Dr. Westfield, IN 46074. We will send an email showing the refund of your deposit within 24 hours of returning the board and non-disposable items. Please note that the credit card companies or banks may take longer for you to see the credit (generally 3-5 business days).
I have other questions you haven't covered!
As always, don't hesitate to email us at christy@thebountifulboard.com with any questions that you might have regarding your event and we'll work hard to accommodate anything you might need.

I can't wait to help you shine at your party!! Let's party together!!